The Week 4 edition of stinks/doesn't stink is here. This week, we're handing out verdicts on TCU, Tommy Tuberville and the prospects of a potential Bedlam rematch for the Big 12 championship.
As always, if you have a specific topic you want to talk about, hit me up on the Twitter.
---
TCU
**Whispers** OSU is two touchdowns better than TCU.
Yes, I realize how insane that statement is. I sound like Joey Galloway trying to make a case for why Ohio State is now better than OU, even though the two literally settled that in Week 2 of the season.
But you can't look at TCU and OSU and tell me that, assuming OSU's entire offensive line is healthy, the Pokes don't roll by two scores. OSU wins that game 7 out of 10 times. On a neutral field, OSU is likely a double-digit favorite. TCU is an above average team that has skated with a little luck and a favorable schedule, and is (probably) going to play for the Big 12 title in December. Which is less than ideal, because TCU might be the fourth best team in the league.
The Frogs have a good defense that looked subpar against OU, and their offense is a mirage, at best, as is the artist formerly known as Kenny Hill. Everyone knows this team is a phony. Can Bowlsby demand an OSU-TCU rematch for a shot at the conference title game?
Verdict: TCU stinks
Tommy Tuberville, the broadcaster
I've heard some bad television broadcasts through my 25 years, but never as awful as Saturday's …. whatever it was, with Tommy Tuberville and Mike Patrick. There were a combined 91 points between the two teams and it came down to a game-saving INT, and yet I felt like I was watching a Wimbledon quarterfinal between Roger Federer and Juan Martin del Potro.
There was zero excitement, and the crew lacked the gumption in the games biggest moments to so much as raise their voice in an apparent tone of thrill. Instead, Tuberville whined about Big 12 defenses and rode the narrative until he was blue in the face. The only exciting thing they did in the broadcast was the hot mic after the game in which they were caught saying s***, d***head, and dump. I'm sure the Worldwide Leader was thrilled about that.
Verdict: Stinks
Bedlam 2.0
OSU fans after Bedlam: Gundy stinks, we can't ever beat OU! 
OSU fans after realizing the Pokes aren't completely out of the B12 title hunt: No, I don't want a Bedlam rematch in the Big 12 title game! I'd rather TCU win out! I've seen that movie before!
That is … so weak.
Listen, I don't understand a lot. But I know two things: The Cowboys appearing in the Big 12 title game would draw in a nice check for Oklahoma State. And a Bedlam rematch would be between the top two teams in the conference, records aside.
Sure, OSU would be an underdog against the Sooners in a rematch in Arlington. And by golly, OU might just roll by 25. But why not run it back? Why not want to see OSU roll it out one final time with all the chips down? For fear of losing to OU?!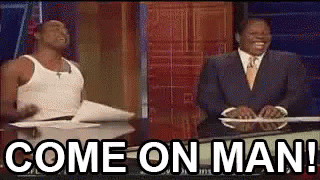 Give me a rematch!
Verdict: Doesn't stink
Source: Pistols Firing
Powered by WPeMatico